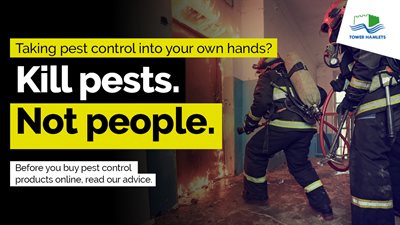 Tower Hamlets Council has launched a campaign to warn residents about the dangers of pest control products after two fatal and life-changing incidents have taken place in the borough. 
Of these incidents, one resulted in the death of an 11-year-old girl, and another left a woman with ongoing serious health issues and no savings after trying to clean up her home. 
The council has reported that these incidents were caused by the use of professional pest control products by untrained residents, the gas from these products can be poisonous and can also lead to explosions and fires.
The campaign, Kill Pests Not People, aims to make sure residents avoid buying pest control products from online marketplaces with multiple sellers, where they can't be sure if the product is suitable for amateur use, and only purchase from reputable UK sellers.
Lutfur Rahman, Mayor of Tower Hamlets, said:
"We are shocked by these incidents that have taken place and our thoughts are with the impacted families. Our primary concern is our residents and ensuring that these incidents don't continue to happen in the borough.
"The products in question are primarily used by professionals to treat house pests, such as bedbugs. It is highly likely that, in the recorded cases, the insecticide was shipped in from outside of the UK and bought from unreputable sellers.
"Pest control products sold in the UK go through rigorous testing to make sure they're safe for amateur use. When people use pest control chemicals that are only meant for professional use or have been shipped in from outside of the UK, they can harm more than just pests."
As a priority the council is urging all residents who may have a pest problem to speak to a professional pest control service first.
The Tower Hamlets Council Pest Control Service is an affordable service that has experienced trained officers and effective treatments and can give advice on how you can stop pests from coming back.
This is echoed by Tower Hamlets resident Sarah* who is still suffering headaches, nausea and other symptoms, six months after using an insecticide to treat bedbugs, which she bought on eBay from Spain.
Sarah has spent all her life savings trying to clean up toxic fumes from her home after the insecticide turned out to be fake.
"I sprayed it and then went to bed. I was awake and on my phone, thank God for that otherwise I would have died. My eye started itching badly. I thought my contact lens had split when I had taken it out. I called 111 and they said to go to hospital. While I was on the phone my other eye and all the skin around my eyes started itching. 
"The air in my room had become toxic. It was then I realised this must have been connected to the insecticide and I started panicking. I was so scared and stressed about it spreading into other rooms in the house and effecting my family.
"I breathed in so much toxic air that even the tiniest trace of a chemical gives me a reaction. This whole experience has badly affected my physical and mental health. 
"If I had a message for anyone considering buying pest control chemicals online it would be to avoid doing it yourself at all costs. It is not safe. Leave it to the professionals who are the right people to sort it out." 
Councillor Kabir Ahmed, Cabinet Member for Regeneration, Inclusive Development and Housebuilding, added:
"Residents need to be cautious when buying pest control chemicals, especially online. There are legitimate businesses that are selling safe pesticides online however you must choose reputable UK sellers, that you recognise and always read and understand the instructions on the label. 
"Well-known online marketplaces may be reputable but the sellers that are on their platform may not be. If you do need to buy pest control products from an online marketplace you need to make sure that you research the individual seller. Check that they are UK-based and that their products are not industrial-grade strength.
"If you do purchase products that are safe for amateur use and the treatment you have tried is not working, please contact our pest control service. It can be difficult to tackle pest infestations however, failed DIY treatments can also lead to a worse infestation."
For more guidance on how to safely buy pest control products and how to remove hazardous chemicals, contact the council here.
*Sarah's real name has been omitted to protect the person's identity. 

Posted on Thursday 15th December 2022

https://www.towerhamlets.gov.uk/News_events/2022/December-2022/Council-launches-pest-control-safety-campaign-after-pest-control-causes-two-fatal-and-life-changing-incidents.aspx